Ride the waves in one of Canada's largest outdoor wave pools. Over five million litres of heated water splashes down every minute. Splash around in our most popular attraction!
With a sloped entry, the wave pool is a family friendly pool that caters for all ages and abilities.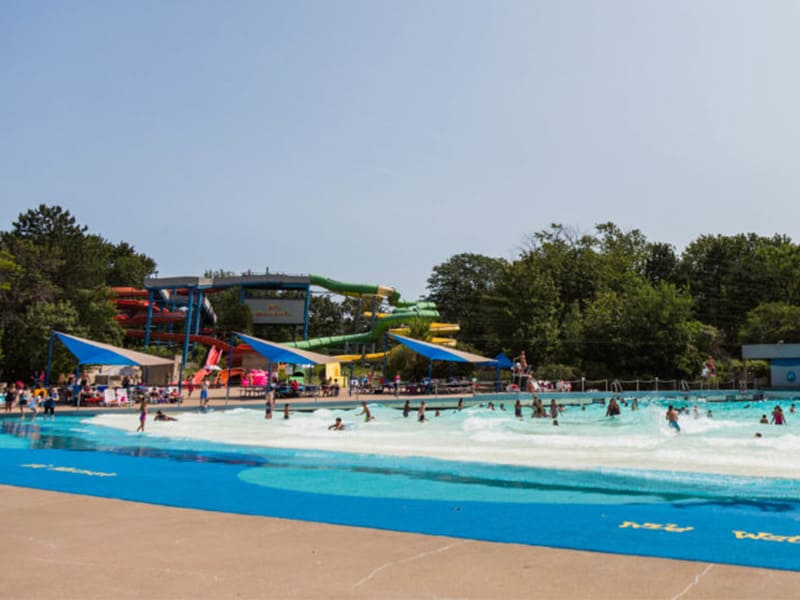 Wave Pool Rules and Regulations​
Anyone 10 years of age and under must wear an approved lifejacket/PFD in the Wave Action Pool and the Eazy River.
NO DIVING – Diving is not permitted anywhere in the facility.
Ladders located in the deep end of the pool are to be used only to exit the pool.
Do not enter or exit the pool via the roped-off areas.
Walking on the lifeguard bulkhead or sitting under the ropes is not permitted.
Eating, drinking or smoking on the pool deck area is not permitted.
Only government-approved life jackets or P.F.D.'s may be worn for personal floatation. Water wings & other non-approved items are permitted in Little Squirt Works and Lagoon area of the Eazy River ONLY.
Only clear Wild Waterworks tubes are permitted in the wave pool.
Masks, fins, snorkels and other water toys are not permitted in the pool.
Persons that are not toilet-trained or are incontinent are required to wear swim rated diapers.